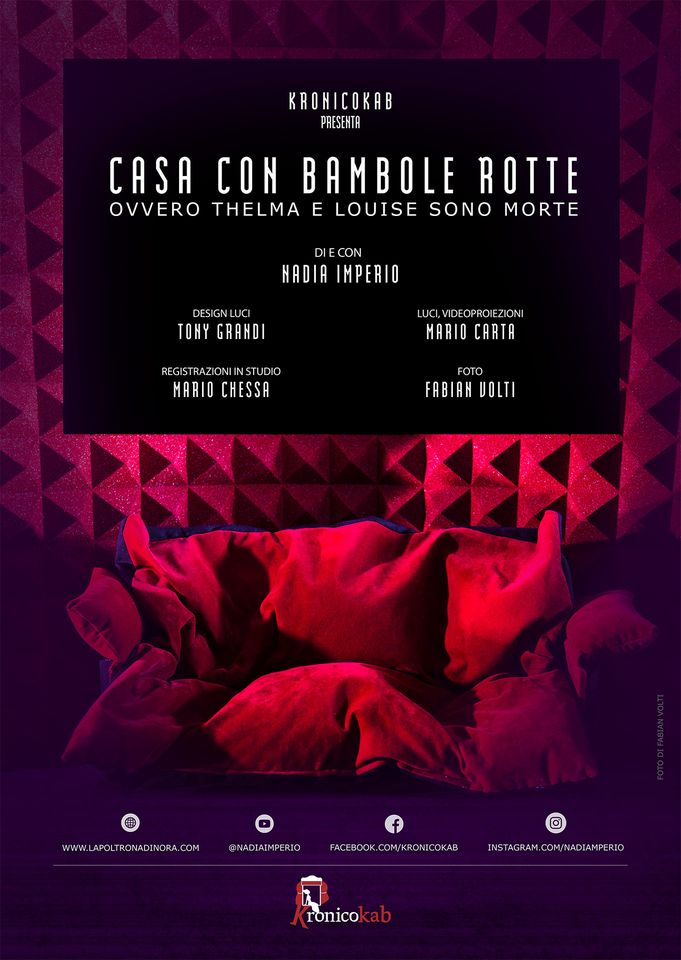 House With Broken Dolls
Or Thelma And Louise Are Dead
A play written, directed, performed by Nadia Imperio
Postfeminist tragedy with Thelma, Louise & friends in a Beckettian mood, with many questions and few answers
Hell, tenth circle. A big screen on stage. Sitting on a worn out sofa, Thelma and Louise, years after their life and death on Earth, spend their eternal time viewing the reality show "A Doll's House", commenting upon the contestants, trying a dialogue that never evolves, asking themselves questions difficult to answer, or simply staying, mute. Helped in their movements by a silent figure, every now and then they disappear from our view, replaced by other inhabitants of this desolate place, characters bursting into the scene as long as the endless repetition of their script requires. But at the end someone will have to win the competition: the Little Girl? Audrey? The Schizophrenic Synecdoche? Maxine? Barbie?... Someone, at the end, will win.
Postfeminist, desolate play where all the players of the game certainly share one element, which link them all: existing.
Light design: Tony Grandi. Lights, projector: Mario Carta. Audio recording: Mario Chessa. Photos: Fabian Volti. Marionettes, props, videos: Nadia Imperio.
Technical sheet
Title

: House with broken dolls or Thelma and Louise are dead.

Direction, script, marionettes, props, videos

: Nadia Imperio

Technique

: string puppets, dolls and projections

Running time

: 60 minutes

Première

: May 2022, StanzeBottega K

Audience

: adults from 16 on

Venues

: theatres, cultural centres, alternative indoor spaces

Ideal stage

: 5mt. X 4mt. Different measures will be considered. Two exits are needed, upstage right and upstage left.

Ideal conditions

: black cloth, smooth floor also black. Stage 1mt high from the ground or audience in amphitheatre situation

Screen for videoprojections

: 140cm. X 100cm.

Setting up

: 4 hours

Packing up

: 1 hour and 1/2

The company will bring its own light system, electronically devices, projector, screen, unless differently arranged.

Light plan

: Download
Teaser
To watch the video, to turn on statistical a/o marketing cookies is necessary.