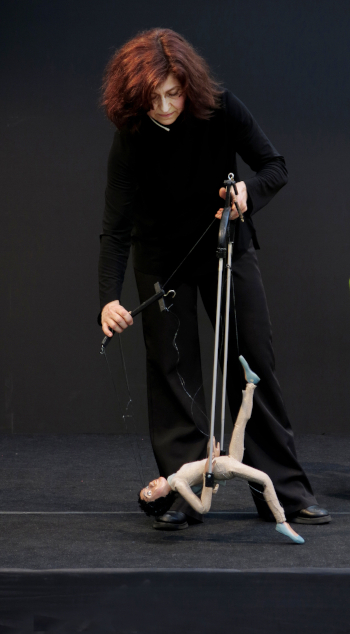 Short CV- Professional experiences
Nadia Imperio graduated in 1993 at the University of Sassari (Sardinia, Italy) in Foreign Languages and Literature, discussing an academic work about the theatre of the Irish dramatist Thomas Murphy. She has been an actress, singer, mask & props & costume maker from 1994 to 2016 for Youth Theatre Company "La Botte e il Cilindro", Sassari-based.
2001, she studied at Teatrul Colibrì in Craiova, acting and manipulating in "Lecție de zbor și cor pentru puiul de cocor" as a result of a month and half workshop with the company. Workshop with duo Donati&Olesen, Comical Theatre Techniques
2002-2003, workshop about shadow theatre with Richard Bradshaw, workshops about paper sculpture and wood sculpture with master Natale Panaro, workshop with Laura Kibel, "The foam rubber puppet", workshop with Malachi Bogdanov, "Mask of Commedia dell'Arte"
2010-2014 she has been studying string puppet technique and theatre with Spanish marionette master Toni Zafra
2010, workshops about construction of a marionette and manipulation of a marionette held by master Stephen Mottram
2017, she starts her own company, KronicoKab, producing her first solo marionette show Under the Strings, award-winning in several international festivals.
2020-2023 Academy with puppet master Bernd Ogrodnik
2022 she starts running her own theatre space situated in the village of Ossi, where shows and workshops are being organised throughout the year.
May 2022, House With Broken Dolls, Or Thelma And Louise Are Dead, her first string puppet production for adults, is premièred.